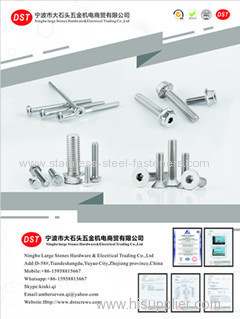 The annual Shanghai Fasteners Exhibition, held in May 2023, drew a large international crowd to the Shanghai International Expo Center. The event, which featured prominent industry speakers and exhibits from over 500 companies, showcased the latest trends and innovations in the fasteners industry.
Participants had the opportunity to network with industry professionals from around the world and engage in discussions on the current challenges and opportunities in the fasteners market. The exhibition also served as a platform for companies to showcase their latest products and technologies, including new materials, coatings, and designs.
Organizers of the event noted that the exhibition provided a valuable opportunity for companies to build relationships, learn about new technologies, and stay up-to-date on the latest trends in the industry. They also expressed optimism about the future of the fasteners market, noting that there is strong demand for innovative, reliable, and sustainable products.
Led by the general manager, four employees from Ningbo Large Stones visited the fastener exhibition and had the opportunity to interact with our industry peers. During the event, we were able to learn about new production and sales techniques and gain valuable insights that will help us better serve our customers in the future.
Our team was particularly impressed by the innovation and focus on sustainability in the industry, and we were able to discuss these topics with experts in the field. We also got to see the latest products and technologies from around the world, giving us a broader perspective on the fasteners market.
By attending the exhibition, Our company demonstrated our commitment to continuous learning and growth. We are now better equipped to provide our customers with high-quality products and services and stay ahead of the competition.
Overall, the trip was a success, and the team members were grateful for the opportunity to represent company and gain valuable knowledge and experience in the fasteners industry. We look forward to applying our new insights and techniques to drive innovation and growth in our business.